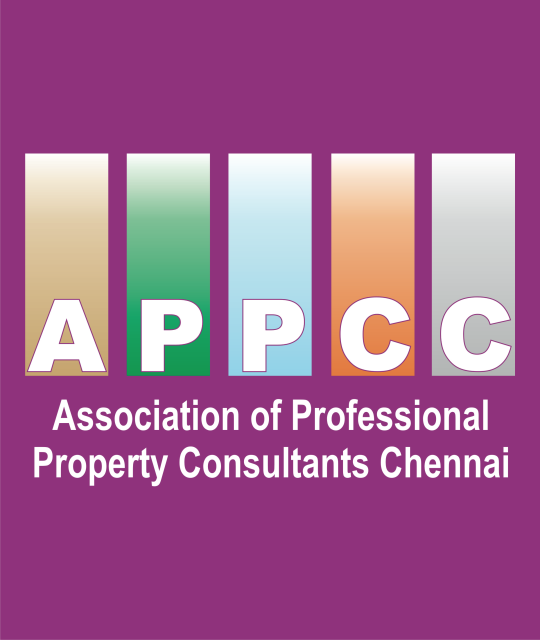 About
APPCC
Association of Professional Property Consultants of Chennai, (APPCC), is a Real Estate Professional trade association. APPCC has members across the Chennai city and its suburbs who embrace our ideals and mission. While our name suggests an organization of Real Estate professionals, it is a professional real estate organization, and is affiliated to National Association of Realtors - India (NAR India) which is a Pan India body of association representing real estate professionals. APPCC includes membership from multiple disciplines representing various disciplines/ verticals in the real estate industry.
Our vision is to bring real estate professionals under one stable, APPCC is professional real estate body, registered under Societies act to provide the right platform and tools for real estate professionals to educate and equip themselves.
Our mission is to bring together the professionals in the real estate industry to network, to transact, to promote the meaningful exchange of ideas about our business and how best to serve our clientele. We strive to create an environment where creativity flourishes in both the workplace and the marketplace.
Our Goal is to service our target market, by ensuring training and educational opportunities made available to our entire members across many disciplines we represent, by providing courses, material, and certifications and by recognising them, by designating in their areas of interest. Our ability to professionally service our client base is the foundation by which we operate, under the motto of transparency and clarity and positive attitude, with the right tools and market knowledge.
APPCC was founded in 2017, registered under societies act, making it the newest and vibrant professional trade association in Chennai, to represent real estate professionals and to act as a platform to connect its members with trade bodies and real estate developers.
APPCC provide them with right tools and education to equip themselves to be competitive and to be professionals, APPCC provides networking opportunities among members which is the key to better transactions.
APPCC's governing body comprising of an executive committee with an experience in the industry for more than 20 years, from across Chennai and its suburbs. APPCC continuously accepts new members to join and actively become real estate leaders.
The APPCC continuously accepts and welcomes new members in the real estate industry to join, where they are provided with the right tools and education to network and transact.